Doors and drawers
Doors
For the folding doors I used the System 2200/40 of the Themans BV company. It consists of a top rail, which caries and guides the folding doors, a bottom rails for guidance and two different pairs of hinges. The next picture shows the outer doors, which are connected to the side plates of the sideboard by "normal" hinges of the Grass company (SNAP ON 3000). You can also see that the doors reach below the bottom plate.
The second door is connected to the first one by simple folding hinges, as can bee seen on the next picture.
The following picture shows both trollies on the door. The top trolly, which can be seen on the second picture, supports the weight of the second door. The bottom trolly only guids the door.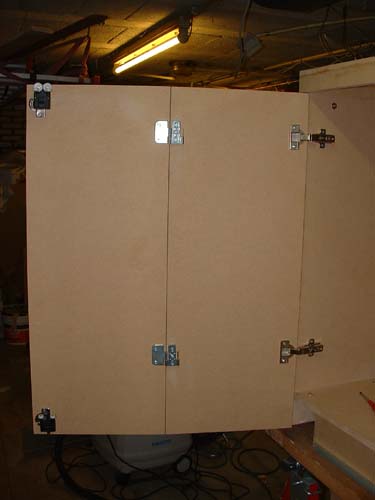 Drawers
Every drawers is made of six individual parts: bottom, back side, two side plates, front side and front plate (this is missing on the picture). The side plates have a milled groove to get a more stable connection when gluing. The second picture shows how a drawer is glued together. The bottom picture shows the drawers after the assembly, but still without the front plates.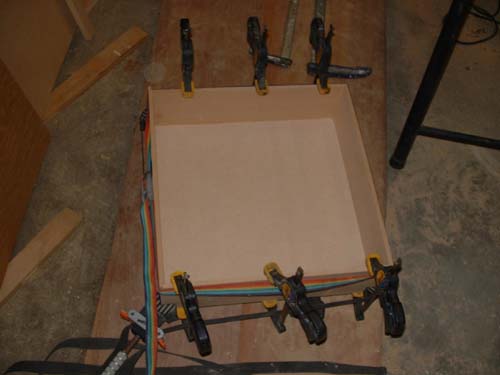 The bottom drawer is larger than the top three. Because the bottom plate is higher than the bottom of the doors, there wouldn't be enough room for a fifth drawer. Therefore I made the bottom drawer larger and mounted two front panels onto it. That makes the front of the sideboard look very symmetrical, even with the asymmetrical drawers.